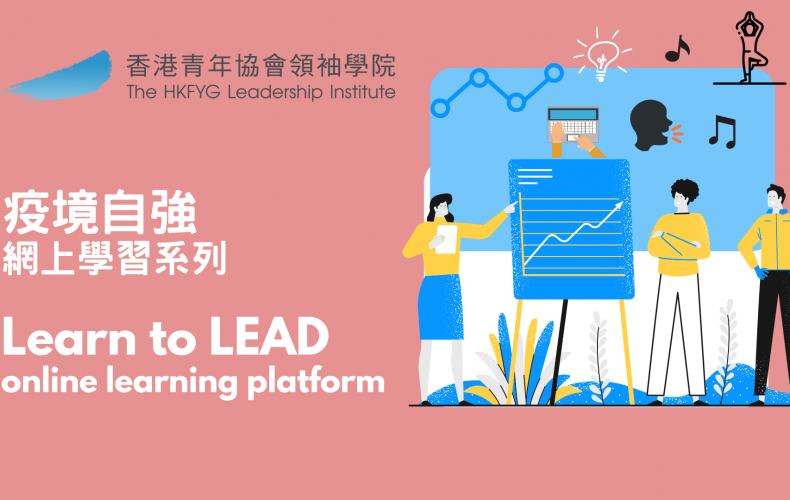 The HKFYG Leadership Institute
Secondary School Students
University Students
Young Executives
Youth
Teachers
Parents
Public
To support students learning at home and to keep our minds sharp, the HKFYG Leadership Institute presents "Learn to LEAD", a free online learning platform. Cross-sector alumni and partners of the Institute will review academic subjects, share their expertise and cheer up the city with intriguing programmes.
Videos have been uploading to the Institute social media, please feel free to visit for the amazing sharing contents.
Stay tuned for the latest news, Follow and Like us NOW.
Facebook: The HKFYG Leadership Institute
Instagram: Leadershipinstitutehk
YouTube: The HKFYG Leadership Institute
​​​​​​​
Guest speaker

Topic

Language

Content

Angel Yip

HKU Graduate with an English major

Mastering Tenses in DSE paper 2

Cantonese

Dicky Kwan

Experienced Liberal Studies secondary school teacher

Liberal Studies-"Independent Enquiry Study"

Cantonese

Dicky Kwan

Experienced Liberal Studies secondary school teacher

Liberal Studies-"Today Hong Kong"

Cantonese

Dicky Kwan

Experienced Economics secondary school teacher

Economics–Gross Domestic Product (GDP)

Cantonese

Dicky Kwan

Experienced Economics secondary school teacher

Economics–Demand and Suppy

Cantonese

Wai Lung

Experienced Mathematics secondary school teacher

Mathematics - Percentage

Cantonese

Alexander Tsang

Junior Champion, National Contest 2016

Tips for DSE English Oral

English

Mei Ting

Experienced Chinese secondary school teacher

Chinese–" Secondary three TSA oral

Cantonese

Expo Kwan

Experienced BAFS secondary school teacher

BAFS–Absorption and marginal costing

Cantonese

Clara Yeung

BASI Certified Pilates Instructor

Pilates for beginner
Cantonese
https://www.youtube.com/watch?v=SX_BirNXHkg
JOEY LAW

Famous Blogger

The 14-year-old CEO & entrepreneur's Mum
Turning Stay-at-time into Learning Opportunity
Cantonese
https://www.youtube.com/watch?v=IktKmJV9xV0

Petra Pun

Registered Chinese Medicine Practitioner

Chinese Medicine and COVID-19
Cantonese
https://www.youtube.com/watch?v=k6mEv1OF70A

Timmy Chai

Doctor

Infection and COVID-19
Cantonese
https://www.youtube.com/watch?v=mIZnwHB1Jhg

Sally Kong

Nutritionist

Stay Healthy with Nutrition
Cantonese
https://www.youtube.com/watch?v=k-UflJE1OZ8