Line To Take - Speaking Studio Online Learning Series 「線上說」- 演說學堂網上學習系列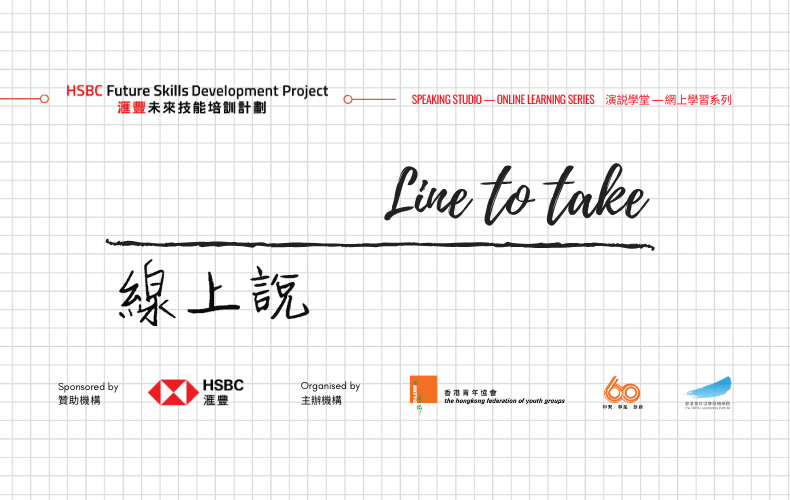 Secondary School Students
University Students
Young Executives
Youth
Teachers
Parents
Public
Introduction
"Line to Take" Speaking Studio - Online Learning Series, under the HSBC Future Skills Development Project, is launched to provide learning opportunities to Hong Kong young people to grasp the latest online communication skills as well as enhance their speaking competencies in different areas so that the employability of Hong Kong people can be increased in the future.
Objectives:
- To provide communication training during school suspension
- To enhance young people's speaking competencies
- To broaden young people's horizon in different aspects of communication
- To prepare young people coping with future challenges, especially new forms of communication during recent times
Programme Features
Popular Online Communication Skills
Career Guidance and Aspiration
Sharing from Speaking Experts
Detailed programme schedule and videos will be uploaded soon.
You may also visit our social media for latest news.
Instagram: Leadershipinstitutehk
Programme Schedule (will be updated regularly)
Date

Topic

Speaker

Language

Videos

16 April 2020

How to ace an online interview (1)

Dr. Sabrina TIN,

Chief Group HR Officer of Luen Thai Group

Cantonese (with English subtitles)

CLICK HERE




17 April 2020

Finding your story (1) – Why Storytelling is important




Ms Rachel SMITH,

Producer & Organiser of

Hong Kong Stories

English

23 April 2020

How to ace an online interview (2)

Dr. Sabrina TIN,

Chief Group HR Officer of

Luen Thai Group

Cantonese (with English subtitles)

24 April 2020

Finding your story (2) – how to structure your story

Ms Rachel SMITH, Producer & Organiser of Hong Kong Stories

English

30 April 2020

Overview of the current job market and what you can do to prepare yourself?

OnGrad, professional career consultancy start-up

Cantonese (with English subtitles)

1 May 2020

如何「我手寫我心」?

蒲葦

,

作者、教科書編者、資深中文及中國文學科教師

Cantonese

7 May 2020

How to conduct effective online meeting- (1)?

Mr Anthony Wong, Human Resources Consultant & Fellow of Hong Kong Institute of Human Resources Management (HKIHRM)

English

8 May 2020

Secret techniques to overcome your nerves for public speaking (1)

Mr Talis Wong, distinguished toastmaster & Certified Global Neuro-Linguistic Programming (NLP) Trainer

English

14 May 2020

How to conduct effective online meeting- (2)?

Mr Anthony Wong, Human Resources Consultant & Fellow of Hong Kong Institute of Human Resources Management (HKIHRM)

English

15 May 2020

Secret techniques to overcome your nerves for public speaking (2)

Mr Talis Wong, distinguished toastmaster & Certified Global Neuro-Linguistic Programming (NLP) Trainer

English

21 May 2020

有效社交媒體溝通 101

Ms Vanesse Lai, co-founder at Start PR

Cantonese

22 May 2020

The Journey of Public Speaking - Sharing by past winners of the HKFYG English Public Speaking Contest

Mr Alexander Tsang, Champion (Junior), 2016
Ms Bakhita Fung, 1st Runner-up (Senior), 2016
Ms Beatrice Chan, 2nd Runner-up (Senior), 2014


English

CLICK HERE